COVID-19 Awareness and Preparedness (Live Map)
Latest Covid-19 updates provided by LSBHIDEI. (October 20, 2020)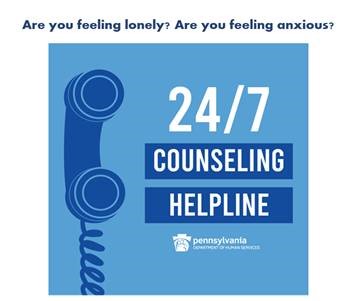 1-855-284-2494 (TTY 724-631-5600)
PA Department of Human Services Statewide Support & Referral Line
Assists Pennsylvanians experiencing anxiety or other challenging emotions due to the COVID-19 emergency.
Staffed by skilled and compassionate staff
Available 24 hours/day
Will provide referrals to community based resources to meet individual needs

A Message from the Program Administrator

The Lackawanna-Susquehanna BH/ID/EI Program, is currently in Yellow Phase of the Governors' plan to re-open Pennsylvania with advancement to Green Phase projected for June 26, 2020.
We are pleased to move to Green Phase and the opportunity to begin reconnecting with individuals we serve in a face-to-face modality. This will surely be a slow transition with the Program taking all precautions to assure that the practices of universal masking, hygiene, and social distancing are maintained. Since March 18, 2020 the Program has worked diligently with our provider network across both Counties to implement measures to stop the spread of COVID-19 within the joinder, and among the approximately 18,000 individuals we support through mental health, intellectual disability and early intervention services. Provider agencies across the Joinder have worked collaboratively with the County Program to assure continuity of care, and the health and safety of individual consumers of service, and their staff, by adhering to Centers for Disease Control (CDC) and Pennsylvania Department of Health (DOH) guidelines. We are pleased to say that we have had very few positive cases of COVID-19 in our behavioral health, intellectual disability and early intervention system. The efforts of our provider network have demonstrated a level of commitment, concern, and action that is unprecedented, and has truly saved lives.
As Lackawanna and Susquehanna Counties continue forward through the reopening process The Lackawanna-Susquehanna BH/ID/EI Program remains committed to our Mission to connect consumer satisfaction, outcome evaluation and accountability with the planning, procurement and efficient management of effective services and support. We believe that these effective services and supports are connected to the person centered care delivered by our local provider network.
We are grateful for the work done to get us to this day, we remain vigilant in our efforts to keep consumers of service healthy and safe, and we look forward to the opportunities that will result from the journey we have traveled together.
Stay well!
Sincerely,
Maryann